WWW.SWARFMAKER.COM

Uncle Bill's Basement.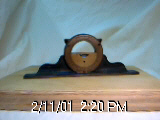 UPDATE: July 12, 2007
Finally got the 220V service into the garage, but I haven't run a wire to where the lathe will be. Now I'll be able to use the 220V welders I have too. I've spent most of the last 7 months in class, doing homework or taking tests. Wow. I want to teach electrial engineering, and/or be a consultant, so I have to go back to school. Otherwise, it's just too much work. I've been able to do a little carpentry in the garage, but now, I'm back to working on the garage foundation where many years of water from a poorly placed and leaking downspout have eaten away the mortar between the cement block below ground. In the winter, the ice will raise that corner of the garage 3/4 inch. Got to fix that. This means lots of digging, and little machine work. Well... I may not be building any machines, but at least I'll be getting a good workout!

UPDATE: March 4, 2007
Believe it or not, I'm still in the process of re-assembling the equipment. However, I must note the new addition to the shop: A Harbor Freight 12x36 lathe. That will live in the garage. Of course, I have to now insulate and heat the garage. Oh, did I mention running 220V to the garage too? Ah, another project....!

The 12x36 is in place, but not yet leveled, and no 220V to power it yet. I'be been working on getting it all set up since September of 2006. However, when I do get it going, I should be able to use it to re-grind the R8 spindle of my big Harbor Freight milling machine. Thats the only thing keeping me from re-assembling it. I built the base a couple of years ago, and re-assembled all but the spindle and related mechanisms. I really miss having the mill. It was my most used tool.

For the past couple of weeks it's just been too darn cold to work out in the garage. It isn't heated. So, I've been constructing a table top for a workbench I bought at Home Depot a couple of years ago. This will be the new home of my Grizzly 9x20 lathe. I'm really looking forward to getting the little guy back into service after nearly 5 years.

Earlier last year, I started making a dial test indicator base, and got pretty far on it, but that project has been languishing.

And as if I didn't have enough projects, I started taking classes at Oakland University in the evenings. I've been out of school for 17 years. This will be a challenge, but I still dream of the day when I can get my machines turning again.

UPDATE: December 4, 2005

I've been chin deep in home improvement projects. Still. I've been working on the same one for over a year now. It's an outdoor project involving lots of cement, concrete blocks, mortar and water. For those of you familiar with Michigan, you will know that December is NOT the month to be playing with water outdoors! Well, I really hope to get back to the machines this month, and away from this home improvement project that I've been working on nearly every day since August 2004. I'm tired of it, and I find myself looking longingly at my collection of Home Shop Machinist, Machinist Workshop, and Lindsay catalogs. Ah well...

In the mean time, here are some pictures of our recent 2005 trip to Europe.

UPDATE: March 15, 2005
Wow, it's been almost a year and I still don't have my machines up and running. I've been working on a small angle plate for the Sherline and scraping, fixing, and fitting the various parts of my Chinese minilathes, minimill, and Harbor Freight micromill. I have to fix the R8 taper on the spindle of my large mill/drill. It isn't quite right, so I will try to re-grind it. The problem I'm having is how to set things up. Ideally, it should be done on a lathe, but I don't have a lathe long enough. I might try to do it right on the milling machine, but I don't like the idea of pressing the bearings off to install the locator pins for the R8 arbors and collets after finishing the grinding of the taper. They drilled two holes in the spindle and used two small set screws held by some sort of Loctite-like glue for the locating pins, but the lower one is beneath the lower bearing. The way I was going to find the correct angle was the old trial and error method using a good R8 arbor. I would set the angle using a DTI, then grind, (clean) then try the good arbor marked with lateral lines with a felt tip marker to see where the lines were rubbed off. Then adjust the angle and grind again. I've done this with Morse tapers with good results.
UPDATE: April 22, 2004
New domain! www.swarfmaker.com!!!!
Now I will have to update the pictures and take some new ones. I'm still working on setting up the machines. I had to make a couple of benches. One to replace my original milling machine stand, and another one for an Atlas lathe I aquired a couple years ago and am in the process of cleaning up.
UPDATE: February 19, 2003
I've been quite busy for the past few months and have neglected this web site.
February 14, 2002 I got engaged. In July I bought a house. September 21, 2002, I installed the wife unit in the house. Since returning from our honeymoon, I have been trying to move and re-assemble the shop. I have a LOT more space to work with, but a lot of work to move things and get it all sorted out. I still have a few things to move from the old shop and a lot of my larger machines still need to be re-assembled.
Here are some pictures of my new shop.
I hope to find more time to take better pictures of my projects and update this site more often.
****************************************************************************
Current project: Radius cutting attachement for the Sherline Lathe.
Drop me a note if you stop in for a visit.
Most of the older images were taken with a Logitech Quickcam Traveler(a WebCam, which explains the poor resolution). (I now have a better camera.)
Here is a view around my cluttered shop. I have a lot of toys, but for the most part, my machining education has been out of books or from the Internet.
Projects
Current Project
Shop
Links
M.D.M.C Metro Detroit Metalworking Club
Bio (For those few that are interested.)
Contact info: "chips" at this domain
July 12, 2007 (When can I book my trip to the moonbase?)