Views of the Shop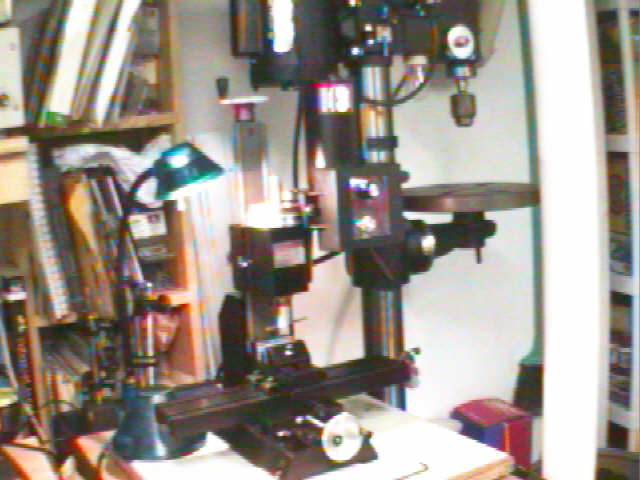 This is a view of the Sherline mill. Behind is an inexpensive drill press.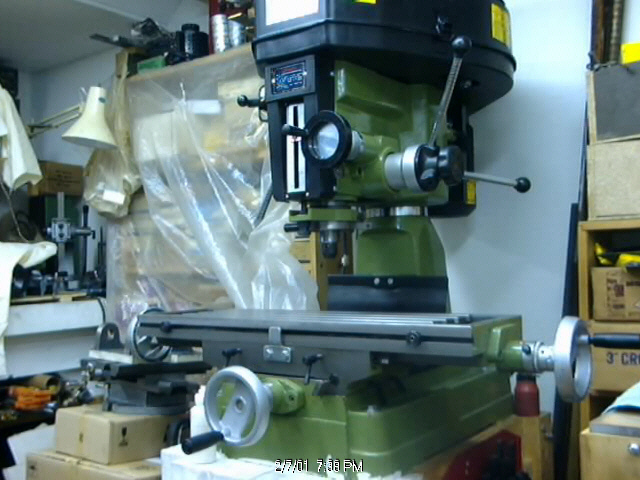 This is the first piece of machinery I bought. It's approximately 700lbs of Taiwanese cast iron. I didn't realize just how big and heavy it was until I went to pick it up from the shipping terminal. I had to dismantle it in the driveway, and take it down stairs to the shop piece-by-piece. Whithout doubt, it is the most useful machine I own...and the heaviest.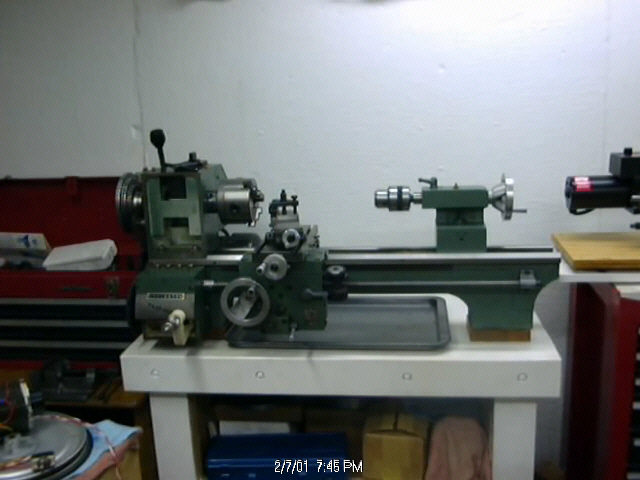 This is a view of my partially dismantled Grizzly 9x20 lathe. It is an older model made in Taiwan. I decided to "fix" it, so that is why I haven't put it back together since 1995. (I hope I don't lose the parts.) It is in working condition...somewhat. I bought one of those variable speed GE treadmill motors hoping to someday replace the factory equipped motor.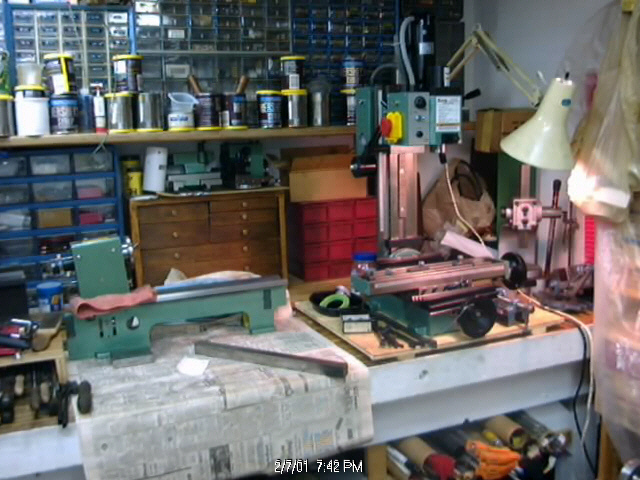 I made the top of the workbench you see beneath the clutter from 24 7 foot long 2x4's. It would be a nice solid work bench capable of handling plenty of abuse...if it were not always covered with debris. I dropped this sucker on my foot when I was building it. It must weigh more than 300 lbs,...with all the glue I used to hold the 2x4's together. I'm lucky that all I aquired was a temporary limp.
To the left is a completely disassembled Harbor Freight 7x10 Minilathe. Once again, I decided to "fix" it. So there it sits in pieces. This project was so fun, that I got another one, and promptly tore it apart too! Not only did I tear it apart to "fix" it, I decided to try scraping the bed. Oh joy!
Another fit enticed me to buy the book Machine Tool Reconditioning. Bad move. Now I know how to check my machines, and what to do to fix them. I swear, all of them are made out of hand molded rubber instead of machined cast iron.
To the right you see the Grizzly Mini Mill. Another machine I decided to "fix". The down feed worm gear needs attention. Can't use it now either.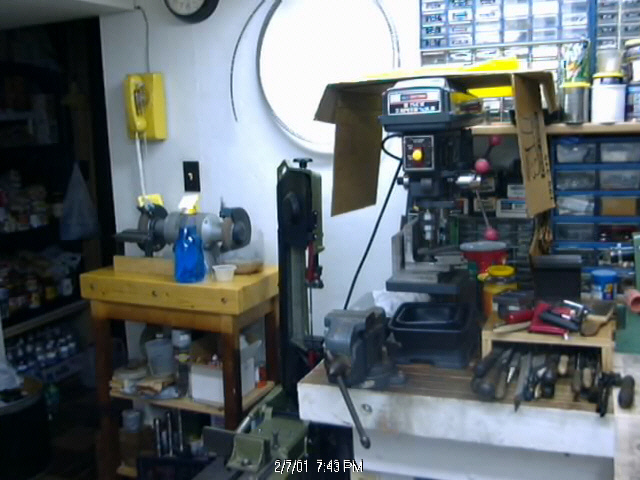 To the left of the bench I have a 6" bench grinder. The small table it sits on is again several pieces of 2x4's glued together. Next to it, on the right, is one of those cheap Chinese (not Taiwanese) horizontal/vertical metal cutting band saws. After cutting through a couple of pieces of 1/2 steel with a hacksaw, I must say that this was the best investment a home shop machinist could make. I built the band saw table you see there in the picture from scrap I had on hand. [I took another picture after writing this, and forgot to put the table in the picture! I'll have to correct this some day.] This is one of the few machines that I have used from the day I bought it without "fixing" it. I'm sure that it could use some improvement, but it hacks metal just fine, and that's all I expect from it.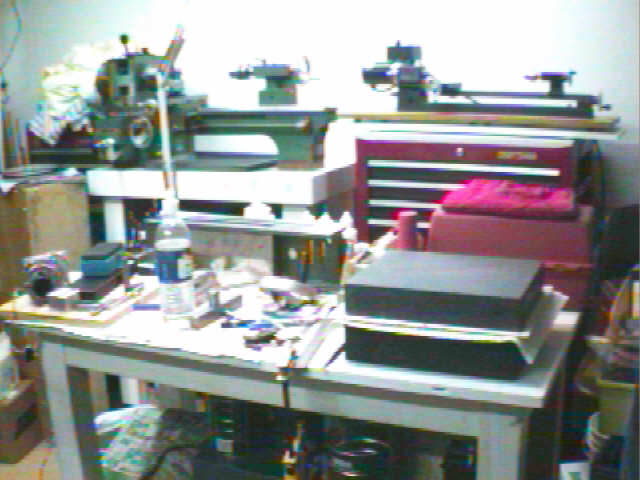 The bench in the foreground is where I actually do work. It sits between the bench described above and the two lathes in the background. The large milling machine is to the left (out of the picture). An electronics bench (not shown) is to the right. Behind the table, you see the Grizzly 9x20 lathe to the left, and my long bed Sherline to the right. I haven't fussed much with the Sherlines since I have to have at least ONE tool that I'm not in the process of "fixing".
On the right of the table is a couple of Chinese surface plates. I think I got them from Harbor Freight for something like $20 each. Why two? Well, I was planning on using one to back a piece of silicon carbide sand paper when creating a flat and smooth surface. I figured that a granite surface plate for $20 would be just as good as plate glass, and would cost just about as much.
At the rear of the table is the bed of that second 7x10 Minilathe that I mentioned earlier.
w.j.ward
2001 06 31 (My hoverboard is on order.)