Bio
A brief bio of your host William Ward, P.E.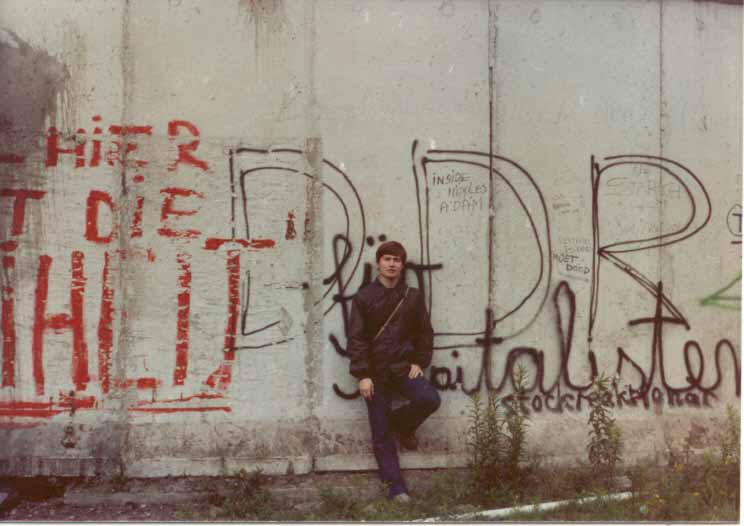 This is me in front of the Berlin Wall in June of 1981.
I wandered into metalworking by way of my other hobby, Amateur Radio. I was always needing to make something or other that I just couldn't buy. I also inherited several precision tools that my grandfather got from his father. Actually, I don't really know how old some of this stuff is. I have a small anvil that my great grandfather must have made while an apprentice back in 1905. Family lore has it that my grandfather's grandfather (that would be my great great grandfather, I think) invented the coaster brake for bicycles. He emigrated from Birmingham England in about 1895, and moved to some place in Ontario, Canada, near Niagara Falls. Later, in about 1915 his sons and their families moved to Detroit, which at the time was a boom town. I had the opportunity in 1999 to work in England for a few months. While there I learned that there was a concerted effort on the part of American industry, and maybe even the government, to lure skilled machinists out of England. Anyway, I just wanted to point out that there have apparently been machinists in my family for generations.
Education:
B.S.E.E. 1986 from Lawrence Technological University, Southfield, MI
M.S.E. 1991 from the University of Michigan.
Current Occupation:
Radio design engineer for Visteon Automotive Systems (formerly Ford Motor Co.)
w.j.ward
July 10, 2001 (Ow! Dropped that darned jetpack on my foot again.)